---
CLUB EVENTS
Our next planned tennis event is going to be the MAY 2009 MIXED DOUBLES OPEN TOURNAMENT that will take place on first Saturday of the month of May, i.e. on May 2nd, 2008.
SPORTSMEN´S BALL DANCE PARTY
The TJ AERO has been planning the social event on Sa Feb 7th, 2009 at the Aero Club ...
2008 END SEASON MIXED DOUBLES TOURNAMENT
Friday´s men´s doubles mini-tournament of Sep 19th, 2008, winded up into a surprise winning of the pair Mirek Mašek & Pavel Novotný.
The pair Jan Kišari & Jarmila Mašková won the main 2008 End Season Mixed Doubles Tournament on Saturday Sep 20th, 2008. Then Jan Kišari & Tomáš Bárta won a bonus Saturday men´s doubles mini-tournament.
11TH ANNUAL VAŠEK BRÝDL MEMORIAL TOURNAMENT took place at the courts of the Club on June 20th and June 21st, 2008. Six men tennis players appeared to sign up only. Honza Kišari won the Friday´s singles tournament while the 2-member teams Saturday tournament won Honza Kišari with Tomáš, the son-in-law.
The last annual SPRING MIXED DOUBLES OPEN TOURNAMENT took place on Saturday May 17th, 2008. The total of 26 participants teamed up into 13 mix pairs and Honza Kišari and Áňa Helíková won upon completing their final match against Pavel Novotný with his partner Petra Pekárková 6:2 on a brilliant sunny day.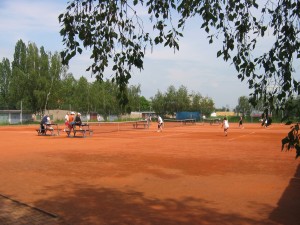 SPRING 2008 MIXED
DOUBLES OPEN TOURNAMENT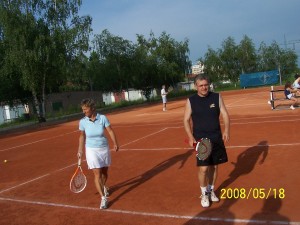 Winners of SPRING 2008 MIXED DOUBLES OPEN TOURNAMENT:
Áňa Helíková & Honza Kišari

_______________________________________________________________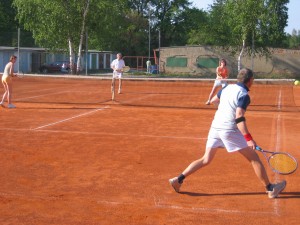 SPRING 2007 MIXED
DOUBLES OPEN TOURNAMENT